Winifred Wimbush
Winifred, Henry's eldest daughter was the only one of his children that followed him into a career as a professional artist.




This picture the 'Flower Girl' which appeared as the frontispiece in 'The Channel Islands' by Edith Carey published in 1902, was painted by Henry and it is reported that Winifred was the model.




She would have been around 16 years of age when the picture was painted and this may have encouraged her interest in fashion

along with her talent as an artist.

Winifred painted 9 different sets of postcards that were published by Raphael Tuck.
Several of the sets were loosely 'propaganda' cards for the 1st World war and would probably
have been published between 1914 -1916.
The sets were :
2372 Sweet Maidenhood Connoisseur
2373 Tres Chic
2396 Tres Chic Water colour
3603 Sporting Girls
8772 A Call to Arms Series 1
8773 A Call to Arms Series 2
8774 A Call to Arms Series 3
8872 Women in Wartime
8882 A Winsome Lassie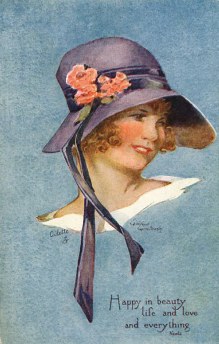 Series 2372 published as an 'Oilette Connoiseur' was printed
on thicker card and with a coloured background.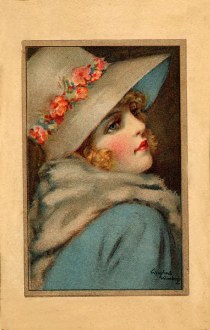 Series 2396 published as Water colours were printed on special
embossed card resembling water colour paper and had the
appearance of a mount around the border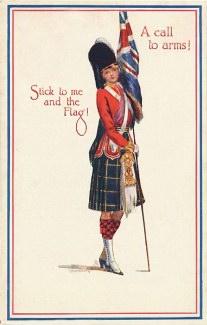 Series 8772, 3, 4 were published as Oilette's and generally showed
regimental uniforms, often worn by girls and bearing the heading A call to arms.
The border showed the red, white and blue of the union flag.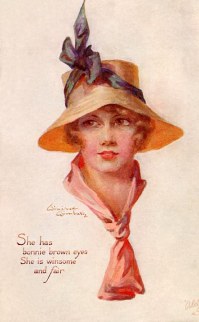 Series 8882 was published as an Oilette but the 'Printed in England'
on the previous cards was changed to 'Printed in the United Kingdom'.
Possibly indicating a published date after the end of WW1.







Very little is known about Winifred or her painting,

except that she married Robert Hughes-Sands in 1922.

Towards the end of WW2 she married Roland Guy Bavington

and they had an antiques business in Torquay, later moving to

Budleigh Salterton, Devon where she died in 1958.






This picture was taken when she was 32 and at that time

she would still have been painting postcards.

She gave this picture to her youngest sister Olive and it was

kindly loaned by Olive's daughter Jesi